Kavali
kavali.ca
34 Clarence St
First Floor 216, Second Floor 96, Rooftop Patio 180

Description: KAVALI offers a modern three level experience featuring a rooftop terrace unlike any other in the city. With luxurious leather booths, an open style concept, and on site audio/ visual equipment, it provides the perfect corporate or cocktail setting.

Hours of Operations
Saturday 9 pm - 2 am
Amenities
Recommended for:
Fashion Shows
Live Music
Fundraisers
Large Group events
Filming
AV Capabilities:
Smoke machine,
Confetti cannon,
CO2 cannon,
Las Vegas style lighting & production.
Other Facts:
3 Booths on first floor, large VIP section on second floor
4 bars, washrooms on 1st & 2nd floorLarge stage, Large dance floor
ATM machine and coat check
First floor wheel chair accessible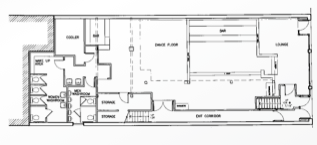 View Full-Size Map